At the University of Kansas, we have three options for undergraduate students interested in Bioengineering and/or Biomedical Engineering:
1. Chemical Engineering with a Biomedical Concentration
2. Mechanical Engineering with a Biomechanics Concentration and
3. 5 year BS Engineering or Computer Science/ MS Bioengineering program
The first two of these options allow students to get a degree in one of the traditional engineering disciplines while also exploring bioengineering.  The third program allows high achieving students in any engineering discipline or computer science (including those in the Chemical Engineering Biomedical concentration or Mechanical Engineering Biomechanics concentration), to use a fifth year to obtain a master's degree in Bioengineering on top of an undergraduate degree.
Qualified Juniors in the engineering disciplines and computer science at the University of Kansas can apply for an accelerated Master's in Bioengineering program.  Students who are admitted to this program receive academic credit for their exceptional preparation, reducing the time necessary to complete the MS degree.
Normally, the MS plan of study requires 24 hours of graduate course credit plus 6 hours of thesis work.  Students admitted to the accelerated program receive a 6 credit hour reduction upon admission for 700 level or above course work completed as part of the BS curriculum.  This course work should be courses that are required for the MS degree in the bioengineering track of interest within the MS Bioengineering program.  Typically this coursework is taken as an advanced engineering elective within the BS curriculum.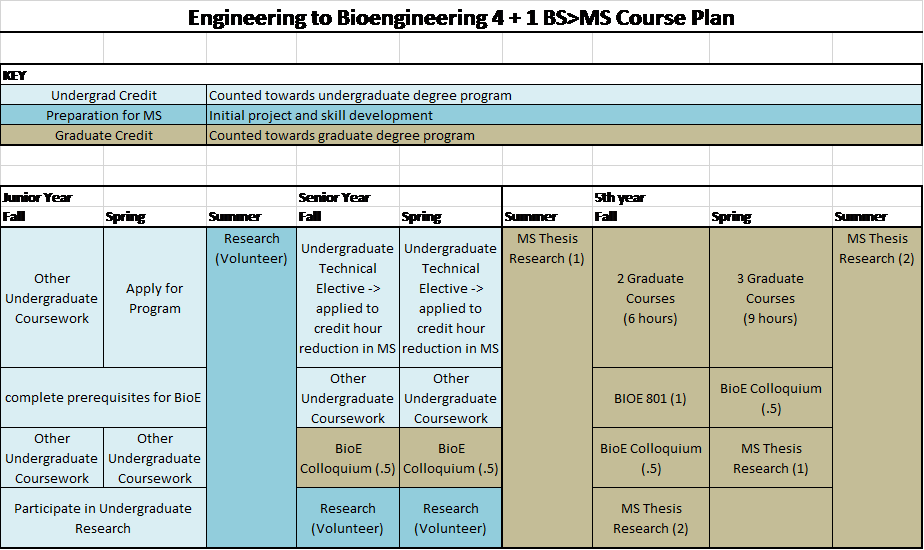 To take advantage of this accelerated master's program, undergraduate students at KU would be required to apply to the bioengineering program in the spring semester of their junior year after completing at least 75 credit hours towards their undergraduate degree and at least 15 hours from completion. Graduate applications to start the following summer would open on January 1 and close March 15. The applicants overall GPA and engineering GPA should be at least 3.50 at the time of applying for the program. If accepted, the students must maintain at least a 3.50 for all remaining undergraduate courses in their B.S. program. Students must apply online by the deadline to be considered for this program to ensure an undergraduate course plan is initiated and students are advised appropriately. Application requirements include:
Complete Graduate Application (GRE scores are not required for these applicants)
Three Letters of Recommendation (one from the student's identified thesis advisor)
A Personal Statement with Proposed Research Topic & Bioengineering Track Focus
An Undergraduate Progress Report Form (showing proposed courses up to BS graduation)
A Graduate Plan of Study (listing proposed graduate coursework)
*Students are required to take all Bioengineering general and track prerequisites as undergraduate electives. This typically means taking a biology and/or chemistry course as a general undergraduate elective (professional elective in EECS, list 2 elective in ME.)
Students are highly encouraged to participate in undergraduate research prior to their application in order to identify their research topic and advisor. Students with extenuating circumstances or those who fail to meet the application requirements or deadline, should contact the Bioengineering program. Exceptions will be made on a case by case basis.
This engineering to bioengineering degree option is only available to undergraduate students at KU pursuing an engineering undergraduate degree. Advisors who have students interested in the Bioengineering Accelerated Master's Program should refer to the Course Plan attached or contact Samantha Foley at samantha.foley@ku.edu or call 785-864-5258.
It is important to discuss this option as early as possible, so students do not miss the deadline to apply (in the spring of their junior year). Students will need to be conducting research during the summer and into their senior year and possibly enrolling in extra credit hours (not counted towards their undergraduate BS degree) or co-enrolling as a graduate and undergraduate.  If co-enrolling is not feasible, other options are available to acquire the necessary classes in the allotted timeframe. 
Students should follow all financial aid enrollment and GPA requirements during their undergraduate career. Some instances and sources of financial aid do not allow for co-enrollment and it is the student's responsibility to contact the necessary resources to make that determination. If this is the case, the student should not enroll in their graduate career until completion of their undergraduate degree in engineering. Their admission can be deferred for up to one year, at which time they should be finished with the undergraduate degree.
Once admitted to the Bioengineering Graduate Program, students may apply for funding or financial aid as needed, but the program will not consider these applicants for GTA positions, as their curriculum is accelerated and the work load would be difficult and may prolong their enrollment beyond the one year plan. GRA positions may be available at the discretion of the faculty advisor.